Click Scolmore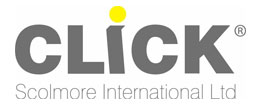 Established in 1989, Scolmore is a thriving electrical and lighting business with an outstanding reputation for producing innovative, high-quality products at competitive prices. This family-run enterprise trades out of a mighty 120,000sq.ft. head office and distribution centre in the heart of England.
Scolmore's primary brand name, 'Click', often prefixes the company name and is also used alone or in connection with other Scolmore associated brands: Ovia (indoor and outdoor lighting), Inels (wireless control systems), Energetic Lighting (lamps), and Fumagelli (outdoor lighting).
Click's fine reputation is underpinned by a constantly evolving regime of discovery, innovation, and high-quality construction. Keeping abreast of ever-changing marketing trends, building regulations and approval standards, a New Product Development Team works tirelessly to ensure that newly designed products are apposite and innovative. Click Scolmore are masters of cutting-edge design and manufacture.
A firm favourite amongst building contractors nationwide, Click Scolmore is a name you can trust for all of your electrical and lighting needs, regardless of the scale of your project.
Read more about Click Scolmore
There are no products matching the selection.