When comparing LED to traditional halogen downlights it is common to look at the energy saving as a percentage, but what does this mean to your actual energy bills and how much money can you save by switching to LED today?
We have used our exclusive cost savings calculator to calculate the total savings of installing new LED Downlights against replacing halogen bulbs in your existing fitting.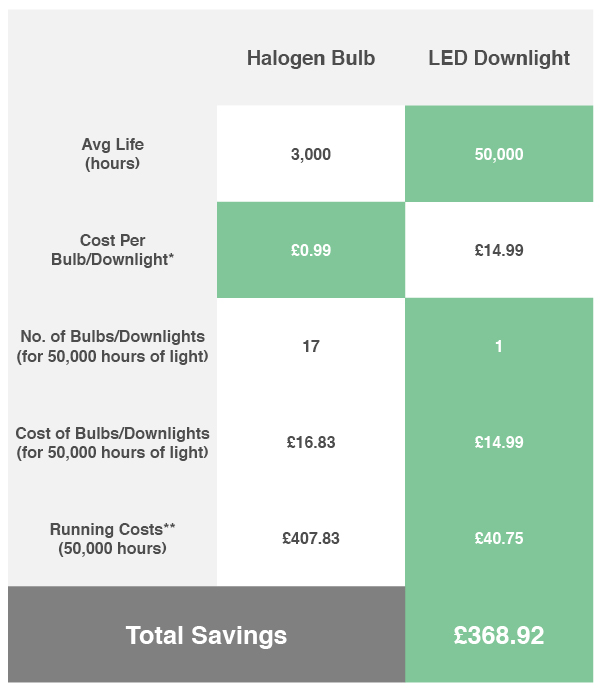 The table above compares the cost of replacing a halogen bulb in an existing downlight fitting, against replacing the whole fitting with a new integrated LED downlight.
We have calculated the equivalent cost savings across our downlights range, details of which can be viewed on each individual product page using the link below.
If you're interested in our full energy cost saving calculation we have shown this in detail below. If you have any questions please don't hesitate to ask our technical team on 0843 317 7820.
*Bulb replacement for existing downlight. Integrated LED downlight replaces any existing downlight
**Based on:
Cost per unit (Kw/H) – £0.163
Usage per day – 8 hours
Charles Barnett Managing Director
Charles started Lyco in 1995 with just 4 enthusiastic employees and has grown it considerably over the past 25 years. Charles is also the Managing Director of Lighting Direct and newly acquired Online Lighting. He now has a team of 50 lighting experts working on growing Lyco Group to be the UK leader in lighting for both businesses and homes. Away from the office he is a keen cyclist and is proud to have cycled 1017 miles from Lands End to John O'Groats to raise money for a new residential centre for adults with multiple learning difficulties.