Whether you're safeguarding a home or a business premises, security lighting is one of the more effective measures you'll take against unwanted visitors. Before investing in security, try briefly adopting a criminal mindset so you can identify vulnerable parts of your building. Look for easy areas of concealment near doors and windows and trim any trees or shrubs that offer a natural hiding place or obscure vision.
As well as good security lighting, consider installing alarms, full security systems, CCTV, perimeter fencing and warning signs. Ensure your locks are sturdy. Sliding glass doors are a common unlawful entry point into homes. To counteract this, they can be fitted with dowel rods, security sensors, and shatter alarms. Screws and washers are sometimes inserted to prevent such doors being hoisted from their frame.
Lyco stocks various products to help thwart intruders and vandals, but we'll primarily discuss security lighting.
Sensors
There are two types of sensor typically used in outdoor security lights: PIR sensor and photocell (commonly called a dusk-to-dawn sensor).
The PIR sensor is essentially a motion sensor that detects changes in IR radiation. Any movement within a given range triggers light for a short, often adjustable duration.
A photocell measures ambient light levels and triggers light on and off at dusk and dawn, respectively. This creates the impression that a property may be occupied, acting as a useful deterrent.
Light technologies
All lighting technologies have particular advantages and disadvantages, which may affect your buying decision when choosing security lights. Here are some of the relevant factors:
Home security lights
Security lights for the home needn't be expensive, either to buy or run. The Coach Wall Up Lantern is available with or without a PIR sensor. A PIR light is useful for legitimate entry into a home as well as deterring intruders, and it saves the expense of running a permanently switched fitting.
The Nemi Globe Wall Light uses a photocell to automatically light the outside of any home overnight and switch itself off in the morning. This fitting is IP44 rated, which is a good all-round specification for rain proofing and resistance to dust.
Lighting doesn't get any cheaper to run than when it's solar-powered, with LED development opening up a whole new market in this area. LEDs are a low-voltage light source, so they feed very efficiently off a solar-charged battery and need remarkably little power. The Evo15 Solar PIR Utility Light is a security light that is free to run and can be discreetly installed outside the home.
Business security lights
Though there aren't any strict definitions, business security lights will often be plainer in design and stronger in output — different to residential lights in ways you'd expect. The ESP Nighthawk LED Security Floodlight with built-in PIR sensor is a robust example.
This 12W luminaire has a 10-metre, 160° range and projects a powerful 1100 lumens of light. Its Nichia LEDs have a mighty 91 lumens-per-watt output, which makes the manual override facility all the more attractive; this is an economical floodlight for general use, too. Nighthawk floodlights can be configured in a slave system, where multiple fittings are triggered by one PIR sensor or photocell.
Also from ESP is the Guard-Cam Security Floodlight, which not only lights up intruders with a powerful halogen lamp, but also records them with video or still images. An audio mode allows playback of a pre-recorded warning to say "you are being recorded by a security camera" and also has a barking dog option. You can even record your own politely phrased messages.
CCTV
The presence of cameras is enough to dissuade most opportunist intruders from committing crime and gives any property owner peace of mind. Lyco sells a wide range of CCTV equipment, including convenient kits like the ESP CCTV Combi Unit with 8 External Cameras. Infrared cameras are often used, which project invisible IR light to effectively see in the dark as well as functioning normally during the day.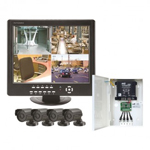 Our CCTV security systems can be remotely monitored from PCs, tablets, or smartphones, with special apps available for iPhones or Android phones. Email alerts can also be set up, so you'll immediately know if the security system has been set off.
Entry systems and locks
To supplement any security lighting or CCTV measures, Lyco offers a range of door entry systems, door locks, and bolts and padlocks. These help protect your property during normal hours of business as well as overnight.
A false sense of security
Most of us are guilty of occasionally leaving windows open, not bothering to switch on alarms, or concealing keys in obvious places. Contrary to the popular saying, criminals rarely return to the scene of the crime. Avoid making their job easy the first time round.
Take a look at our full security lighting range.
Looking for more news, inspiration and advice? Try our Lighting Advice section