Welcome to an introduction to our Lighting Projects Team. Our dedicated team of customer centric, experienced and dedicated experts are on-hand to support your projects no matter how large or small.
Over the past 25 years Lyco has worked on a huge range of projects, varying from specialist care home installation, LED lighting projects at historic hotels, to lighting management of international hospitality brands across the world. We are proud to offer bespoke lighting designs, site surveys with installation recommendations, and true return on investment calculations.
We have supported businesses across a number of industries in the UK and around the world. To find out more about our work read on below.
• Restaurant & Bars
• Hotels
• Commercial Spaces
• Retail Stores
Our Customers:

Restaurant and Bar Lighting
Designing, planning and installing the lighting for a new restaurant opening or refit is a vital element to the process. Whether trying to create a luxurious intimate dining experience, or fast food on the run, lighting will help create precisely the right mood.
Our dedicated team has many years of experience working with some of the biggest names in hospitality, creating bespoke lighting that allows our clients to create exceptional experiences for their customers.
Quality food requires quality lighting and we have worked with Paul for many years on both refurbishments and new openings.
In the past 5 years, we have worked with Five Guys to manage new store openings and lighting management across close to 150 sites in the UK and around the world.
Store openings in UK, Europe, Middle East and Asia
Bespoke lights manufactured for their restaurants
Ongoing replacement/maintenance service
Commercial back of house and decorative front of house
Why not talk to us about your next project?
Hotels
Hotels are all about ambience so naturally lighting has an enormously important role to play. The exterior and lobby in particular needs to feel warm and welcoming to guests who have arrived in need of rest, relaxation and rejuvenation.
We have worked with and are continuing to work with many hotels groups on refurbishments to provide LED lighting, which has not only helped modernise older, and even historic buildings, but has also resulted in huge cost savings.
Hotel lobby, restaurant and bar areas are key to setting the look and feel of your hotel and can attract new, and repeat, customers to stay and spend more.
For bedrooms why not explore our range of bedside lamps, reading lights, desk and floor lamps. We guarantee we have the designs to ensure your guests have everything they need for business or leisure.
We also stock a huge range of stylish mirror lights, shaver lights, downlights and much more to give your guest bathrooms that extra quality feel.
Commercial Spaces
Whether its function or style we have a large choice of commercial lighting with the correct colour temperature to create bright and efficient workspaces that reduce work fatigue and improve vitality, performance and even mental health.
The right lighting, at the right time, in the right place, can improve motivation, productivity, even support a more positive attitude for employees, so it pays to take time to consider and plan lighting carefully.
Industrial working environments such as warehouses, garages and factories equally need care and thought when it comes to planning the lighting inside and outside the premises. Our experienced team will make lighting suggestions based on durability, energy efficiency, and safety. Security lighting is an important factor and we can recommendation a wide range of external lighting and surveillance devices to help keep premises safe and secure.
Our team can choose from a huge range of dedicated commercial and decorative lights available in our range to support your office or warehouse project:
For a personalised survey and recommendations call us today on 0345 646 1136
Retail Stores
The high street has never had to work harder to retain customers and, as part of this effort, lighting plays a massive role in creating an appealing, welcoming environment for shoppers. From the shop window to the changing rooms, our team will help you plan and execute a tailored lighting system for every zone of your retail space.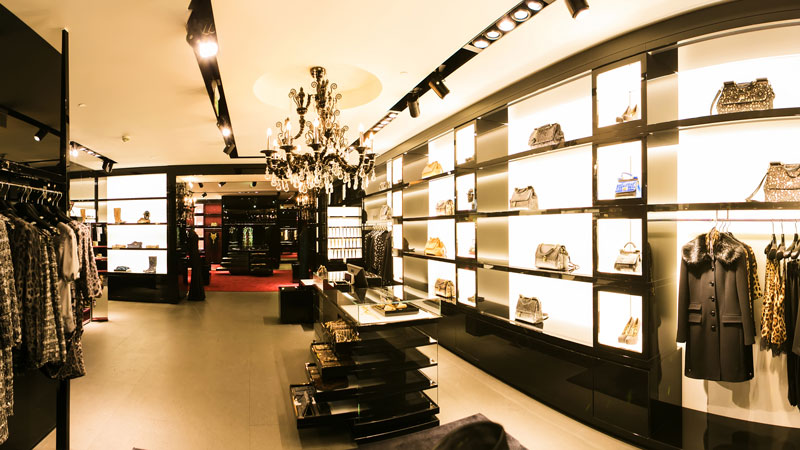 The options for lighting within retail environments are vast, with huge scope for showcasing creative flair. Ambience is key in a setting where consumers are being encouraged to browse at a leisurely pace, whereas we would recommend bright and prominent lights in other areas, helping customers easily locate payment counters, collection points and emergency exits.
Modern lighting has energy efficiency at its heart and our team have many solutions available that combine LED technology with impressive, vibrant functionality. We will make recommendations in line with retail best practice to enhance visual merchandising, ensuring effective signposting to heighten the customer's in store shopping experience.
Lighting Project Manager
When undertaking a project to improve your lighting it's important to have a partner you trust. At Lyco we have a dedicated team of Project Managers and Account Managers who offer a full hands-off service that gives your team the freedom to do their day jobs while we focus on surveying, pricing and installing your LED lighting projects.
If you're looking for a lighting project solution then get in touch with us today:
Andrew Evangelidis Head of Buying
Andrew is an experienced buying professional who takes an entrepreneurial approach to identify new lighting solutions and ensure Lyco have first-to-market ranges for our customers. Having previously worked for well known brands such as Wickes, Carphone Warehouse and Toys R Us, Andrew has now turned his hand to sourcing commercial lighting and ensure our customers receive top brand quality products at marketing leading prices. He manages a team of commercial and decorative buyers who travel the world finding new products that our customers don't even know they need yet.