Plinth lights are small, low-level lights usually installed into the kick boards of kitchen units. They have a decorative effect as well as adding ambience and an element of safety. Here we look at the various types of plinth light, their advantages, and which ones to choose for any kitchen.
Plinth light benefits
Plinth lights are primarily installed for their decorative effect. They help modernize a kitchen, and are at their mood-enhancing best when general kitchen lighting is not overpowering. Contrast is a vital ingredient in creating ambience, and plinth lights look great when they're the centre of attention.
Highlighting effects
Plinth lights highlight the colour and texture of a floor. Rather like a picture light, you can choose a colour of light that will emphasise the floor colour. For instance, a warm white light is a good match for wooden floors or red tiles, whilst a cooler white or blue is good for stone floors or white tiles.
See in the dark
Aside from their visual appeal, kitchen plinth lights can act as night lights, perhaps in anticipation of a midnight snack or drink. Modern LED lights make this possible through their minimal consumption of power. Plinth lights can sometimes be hooked up to a PIR sensor so that they trigger automatically when anyone enters the kitchen.
The LED advantage
Most modern plinth lights use LED technology. Aside from being energy-efficient and cheap to run, LEDs are a versatile light source from a designer's viewpoint. They're compact in size, extremely long-lasting, shockproof, vibration proof, and resistant to low temperatures. LEDs are also relatively cool-running, which avoids any possibility of burned fingers if you have children at floor level.
Plinth lighting styles
There are two main styles of plinth lighting: continuous and spotlighting:
Continuous
An example of continuous plinth lighting is the Deltech 5M LED Flexi Strip, which can be cut to size and fitted in many types of confined space. The warm white light of this strip will complement wood or red tiles. Deltech also produce an RGB Colour-changing LED Flexi-strip, which allows many colourful modes and effects when operated by a separately available remote control.
When concealed around the base of a kitchen island or fitted unit, the glow of continuous LED strips can create an attractive 'floating' appearance.
Spotlighting
With the spot approach, a series of small fittings are faced outwards to regularly accent or wash the floor with light. LEDs are ideal for this, with their naturally directional nature, crisp bright light, and rich colour.
Square-shaped fittings such as the Stratford Recessed Square LED or the double-insulated Robus Croxley LED Tile Light look extremely neat as plinth lights. They create a uniform look and often complement the lines of kitchen cupboards.
Multipurpose lighting
When buying plinth lights for your kitchen you'll notice that many suitable lights are not primarily marketed as plinth lights. Some are decking lights, others might be under-cabinet lights, but many are fine for this purpose.
The Simpson LED Walkover Lights, for example, are designed as outdoor decking lights, and are completely dust-tight and waterproof as a result. These lights can withstand plenty of punishment, including shock, vibration, and being sloshed by a kitchen mop.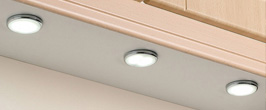 For ease of installation, Endon's Set of 4 Surface Mounted LED Downlights is a smart, low-profile solution to plinth lighting. The lights adhere to a surface by self-adhesive pads, and are wired through to an included LED driver. The Endon lights are relatively easy to install, but lack the waterproofing of outdoor lights.
Adding dimension
Plinth lights add extra dimension to a kitchen, especially when complemented by wall-washing up-and-down lights and diffused ceiling lights. Layered light creates visual interest, highlighting each part of the room and giving a greater impression of space.
If you're a designer, specifier, or end-user, plinth lights are a fantastic way of adding depth and style to any kitchen!
Looking for more inspiration or advice? Try our Lighting Advice section.