Solar Lights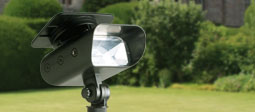 Solar lights offer a real cost effective way of lighting your outdoors. Harnessing the rays of the sun, solar lighting also allows you to place garden lights in areas that you normally wouldn't be able to reach with electricity. The fact that they use the power of the sun means any solar lights that you invest in won't cost you a further penny after purchase.
Powered up for all tasks
Initially only seen as good for powering decorative garden lighting effects, solar lighting has now been improved and perfected to such an extent that it stand side by side traditional lighting options and can handle pretty much any outdoor lighting purpose, including the power-hungry security requirements. Its ability to take on security lighting means that you can now position security lighting in places that previously were out of reach of traditional electricity.
A range to eclipse the market
Lyco have an impressive selection of solar lights that take in both utility and feature lighting requirements. From solar wall lights to LED solar spotlights and from Bling String LED fairy lights to Solar PIR Porch lights our range covers all bases. Our solar light range also includes a wide selection of extremely popular Dusk To Dawn lighting options.
Read more about Solar Lights