Metal Halide & Ceramic Metal Halide Lamps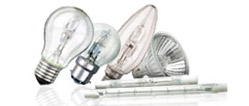 Our large range of metal halide lamps includes products from some of the world's leading lighting manufacturers like Philips and Osram.
When you're choosing lighting for commercial and industrial use, you want brands you can trust. We stock lamps from many leading manufacturers who have been producers of this sort of lighting for years.
Different Metal Halide Lamp Caps

There are several different caps to choose from within the metal halide lamp range. We stock Single Ended, Double Ended, Elliptical and Tubular to suit many different types of fittings.
We also have a new product from Sylvania - their BriteSpot Spotlight Reflectors use the 'twist and lock' type fitting, are compact, and produce three times the light output of standard halogen reflectors.
Choice of Colour & Wattage

Within our range of metal halide lamps we have a whole spectrum of wattages available, from 70 and 150 watts to 250 and 400 watts for larger fittings. Choose from Warm Deluxe and Natural Deluxe colourings, the most popular types.
Read more about Metal Halide & Ceramic Metal Halide Lamps