Spot & Track Lighting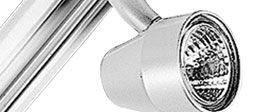 With a solid reputation and almost twenty years of experience in the lighting industry, the team here at Lyco are confident that we can bring you the very best in spot, wire and track lighting to meet your business (and domestic) needs. These forms of lighting offer a higher degree of versatility, allowing you to achieve the exact results that you require.
Spotlights
Spotlights provide direct lighting as required and with adjustable heads they can be repositioned to allow flexibility. We have a wealth of choice available for you in terms of design, style and finish. From a polished chrome spotlight with a crystal glass shade to an antique bronze light plate, we are confident we have the look you require. Choose from single or multi spotlights depending on the size of the space you need to illuminate.
Track lighting
We have a range of tracking lengths available allowing you to choose the exact number of spotlights you need. If you prefer, we have a selection of tracking kits for your consideration. These kits can be extended with additional tracks to give further flexibility.
Wire lighting
The sleek design of our wire lights can look particularly impressive in a contemporary setting. With halogen lighting these fittings provide a sharp and sparkling light.
Read more about Spot & Track Lighting