Cabinet Lighting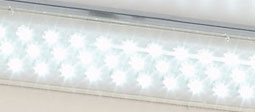 The fittings in our superb range of cabinet lights are cleverly designed to provide effective illumination from compact, unobtrusive fittings. With a wide choice of fittings available it is easy to find the cabinet light for your premises and they are ideal for illuminating inside cupboards and cabinets, or under shelves and worktops.
Choice of Efficient Light Source
This range of cabinet lights makes use of energy efficient light sources to provide effective display lighting with low running costs. These include LEDs (Light Emitting Diodes), low voltage halogen lamps and low energy light bulbs. LEDs are also perfect for displaying sensitive materials, as they have a cool operating temperature with low heat output.
Easy to Install
All of our cabinet lights are designed to be installed quickly and easily. Many come complete with lamp, connectors, transformer and cable, so you can set them up as soon as they arrive. There are recessed or surface mounted fittings and also re-positionable cabinet lights that are self-adhesive or come with a clip, for extra fast, no fuss installation.
Stylish & Durable Cabinet Lighting
Our striking cabinet lights are designed to complement modern interiors with attractive metallic finishes such as brushed nickel or polished chrome. Manufactured to be long-lasting and durable in commercial environments, these lights are made from hardwearing materials such as steel, aluminium and polycarbonate.
Read more about Cabinet Lighting