Graypants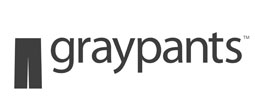 Graypants is a conceptual design company founded in Seattle in 2008 by architect friends Seth Grizzle and Jonathan Junker. Perpetually engaged in architectural projects, Graypants also specialise in the responsible design and manufacture of sustainable products, with a specific leaning towards furniture and designer lighting.
It was in their formative years, when the creative Graypants duo were entering their now-popular 'Scrapchairs' into a design competition, that an idea came to them to complement the chairs with similarly themed lampshades - fashioned from salvaged cardboard! Thus it was that 'Scraplights' were precariously born, and these designer lights have become a phenomenal success across the world, with manufacture now taking place at Graypants' impressive European facility in Amsterdam.
Precision cut from reclaimed cardboard, meticulously hand glued and assembled, and finally treated with a non-toxic fire retardant, Graypants Scraplights can be found in establishments such as luxury hotels, fine-dining restaurants, coffee shops, and prestigious offices globally. Each light is unique by its hue and corrugated pattern, and it's this pattern that allows light to filter through and create a bewitching shimmering dance on nearby walls and ceilings. These are statement lights - functional art, if you will, and they're guaranteed to turn heads, create a talking point, effortlessly generate mood, and make your business memorable!
For extra effect you can successfully pair many of the Graypants Scraplights with shapely designer Plumen energy-saving bulbs. This is a marriage made in heaven, and Graypants themselves actively encourage the union.
An investment in Graypants is an investment in responsible design and innovation, but you'll also be buying that most precious of commodities - impact!
Read more about Graypants
There are no products matching the selection.